"By doing one learns; with study one refines; through dreaming one creates; in loving one fulfills. Such is the secret for tending to the perennial garden of our soul."
– don Oscar Miro-Quesada
A Pilgrimage of Soul for Intergenerational Women
2024 East Coast 'SoulFire' Community Cohort

A series of virtual and in-person retreats rooted in the Courage & Renewal® approach.
Honoring the sacred rhythms of the seasons in multi-generational community with the goal of individual and local community renewal. Come with your courageous soul-mates, in two's or three's, younger and older. Together we will form a diverse community of learning, co-creating, loving, and tending the garden of Soul.
'Winter Longing'

March 2 – 3, 2024
starts with a virtual weekend on Zoom.
10-4 Saturday and 10-1 Sunday
includes nature-based solitary time.

'Spring Fire'

April 19-21, 2024
at Kirkridge Retreat Center, Bangor PA
(2-night retreat with Carol Kortsch and Valerie Brown)

'Summer Heat'

a June Zoom Day (TBD)
plus, a personal 'guided' retreat
on a summer date and place by water of your own choosing.

'Fall Harvest'

Sept 6-8, 2024
at Kirkridge Retreat Center, Bangor PA (2-night retreat with Carol K. and Cat Greenstreet)
Full Clearness Committee process offered.

'Winter Fire': Date and time TBD – final Zoom meeting
INTENTION: to inspire triads and dyads of those who identify as woman. Soul friends from a local area, family, or cultural /artistic / activist / service / faith organization coming together to learn and grow on behalf of the land and communities we live in. This offers the opportunity for in-between practices, check-ins and action steps with the same learning partners over the year.
WHY? Each of us is alive and moving in spheres of communal involvement – with close friends, partners, family, work, social activism, faith communities, business relationships. We have been doing this our whole lives with a multitude of varying degrees of connection and influence. No matter our age, we each have inner longings to change and bring change into all these spheres to create the world we all know is possible. We see the need and desire to influence and be influenced with the soulful power of both personal and collective intimacy and authenticity. We are a community-in-process – inside and outside!
We each have the fiery birthright capacity to be elders-in-training to serve as channels of life energy on behalf of the greater village we live in.
We are aware of the urgent need to activate Earth's natural healing energies in many forms – individually and collectively. Where our human systems are breaking down, we dream for new ways for sustainability as psycho-spiritual and embodied humanity – as living, networking members of Mother Earth.
Consider your engagement in this 2024 challenge as an emergent form of Earth's longing for healing and wholeness – a fresh direction of sparking SoulFire in your own life and community!
COST $840.00 per person for the entire year cohort program*
Please only apply together in small groups of 2 or 3. APPLY HERE
Rolling applications reviewed by Dec 15th, 2023, and if there is still room – Jan 28th, 2024.
$150 non-refundable deposit to Kirkridge after acceptance into the program
March 1 – $345.00 payment to Kirkridge
Aug 1 – $345.00 payment to Kirkridge
*Please note that 'Cost only' is charged. As facilitators, we offer our time and energy on a gift (dana) basis. Please read this document for more details about our 'gift economy' understanding before you sign up.
See more website information about the beautiful and sacred space of Kirkridge Retreat Center, Bangor, PA on the Appalachian Trail , and Columcille Megalith Park next door.
Please contact Carol Kortsch at ckortsch@gmail.com for further questions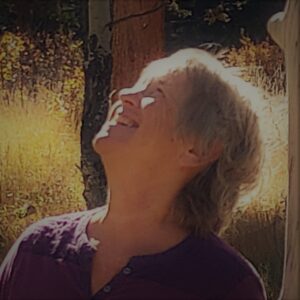 Carol Kortsch was born in Africa, educated in Canada, and then worked internationally building community in different forms. After 25 years in psychotherapy and teaching group practice at Stonehaven Commons in Radnor, PA., she now offers nature-based retreats from Boulder, Colorado as a Courage & Renewal group facilitator. She blends the Earth-based practices of Animas Valley Institute and other local organizations in a visionary program called ElderSoul. As a life adventurer and Earth listener, she recognizes our essential and critical human need to stop, slow down, and listen to our lives and all our relations speak.
Valerie Brown is a Buddhist-Quaker Dharma teacher, facilitator, and executive coach specializing in leadership development and mindfulness practices with a focus on diversity, social equity, and inclusion. A former lawyer and lobbyist, Valerie transformed her high-pressure, twenty-year career into serving leaders and nonprofits to create trustworthy, authentic, compassionate, and connected workspaces. and leads an annual El Camino pilgrimage to celebrate the power of sacred places. An award-winning author, her latest book Hope Leans Forward: Braving Your Way toward Simplicity, Awakening, and Peace received the Nautilus Gold Award for Eastern Spirituality for 2023.
Cat Greenstreet has been facilitating Circle of Trust® retreats, using the Courage & Renewal® approach, since 2006. She was an educator for 30 years and devoted the last 20 of those to Waldorf education. Cat co-founded Hidden Water, a restorative justice program designed to help individuals heal from the devastating impact of child sexual abuse within a family system. A thread through her work has been creating spaces in which people of all ages can be in touch with their core selves, heal, and realize their full potential.